A place for Manchester's makers and creative community to meet, collaborate, work and socialise.
Hackspace Manchester provides over 200 members 24/7 access to a fully equipped workspace with dedicated areas for woodworking, metalwork, electronics and digital fabrication alongside shared space for general activities and a dedicated social/chillout space.
We keep our membership fees low and operate on a pay as much as you think the space is worth to you basis. Suggested fees can be seen on the Join page.
To keep things working well, we have house rules, our Citizen Hacman Agreement.
Located in the heart of Ancoats (recently voted the 13th coolest place in the world to live) Hackspace Manchester is based at Wellington House, a historic textile mill just a stone's throw away from New Islington and Holt Town metrolink stops.
Take a look at what we offer!
Woodworking Area
Hackspace Manchester boasts a well equipped Woodworking area.
Tools we have include:
Pillar Drills
Bandsaws
Sanders
Table Saws
Hand tools
Drills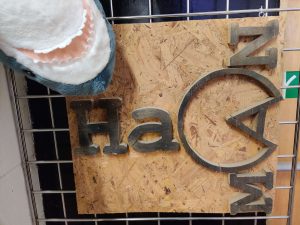 Metalworking Room
Our metalworking room provides a separate area for all kinds of metal work, from sparky to grindy.
Some of our tools:
Lathe
Bender
Bandsaw
Ultrasonic cleaner
Hand tools
All tools are available for suitably competent persons to use, and if you don't know how to use something, just ask!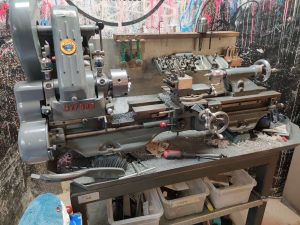 Visual Arts
Visual Arts, showcased on its very own stage with bright colour-accurate lighting, is the home of making, laser cutting, printing (2D and 3D, sadly no 4D printing yet), sewing and anything arty.
It's an eclectic area featuring:
3 x Ender 3D Printers
600mm x 400mm bed Laser Cutter and Engraver
HP Design Jet A0 Large Format Printer
Vacuum Former
Vinyl Cutter
27″ iMac with additional 27″ Screen with Photo and Video editing software
6ft x 4ft (approx) craft work table
2 Singer Heavy Duty Sewing Machines and Overlocker
Screen Printing Equipment
Craft Supplies Cupboard – with fabrics, paints, glues, all kinds of intresting bits.
Painting Easel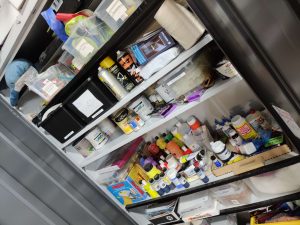 Electronics area
Our electronics area is home to three workstations, and a whole host of equipment and parts. This is where you can solder, hack, tinker and circuit-bend.
We have drawers and drawers of any number of parts you may need, including resistors, capacitors, switches, LEDs, ICs just to name a few. We have reels of wire, hand tools, and the equipment you may need including power supplies, oscilloscopes and hot air guns.
Adjacent to this are shelves of usable odds and ends, a great place to go treasure hunting!